As the global economy enters 2023, organisations face a challenging dilemma: how to adopt valuable new technologies to improve operations while making smart business decisions and effectively allocating budgets and resources.
As businesses increasingly adopt SaaS and cloud-based applications, and as the number of remote workers grows, IT management faces new challenges.
They must provide a secure, stable and easy-to-use enterprise IT productivity platform that enables employees to work from anywhere, while protecting corporate data from security threats.
It can be said that an organisation with a reliable and comprehensive enterprise IT solution is likely to have gained a competitive advantage over its competitors.
What are the pain points of enterprise IT solutions?
The reality is that the value created by the productivity of an organisation's people involves a complex set of costs, including the purchase, maintenance and eventual disposal of equipment. There is a jargon in the industry to describe this called "total cost of ownership".
Many companies have a limited understanding of "IT solutions", considering only the distribution of standardised office computers and the manual configuration and troubleshooting performed by IT administrators.
This not only requires a larger procurement budget, but also the maintenance of a stable IT management team. If the company has multiple office locations, additional staff will need to be hired, which will undoubtedly increase the total cost of ownership.
Then there is the scenario of remote working or events. While employees may be able to call on IT administrators for help with in-office IT issues, when working remotely, they must rely primarily on their own problem-solving skills.
Experienced people can quickly see that over time, such arrangements quickly reveal their shortcomings. Many organisations become lax in the careful management of employee devices, instead delegating the responsibility to the employees themselves.
At this point, the actual maintenance "baseline" is surprisingly low, unless the devices are malfunctioning. The consequences are also obvious, as most employees eventually become more negligent, sowing the seeds of instability in the company's development.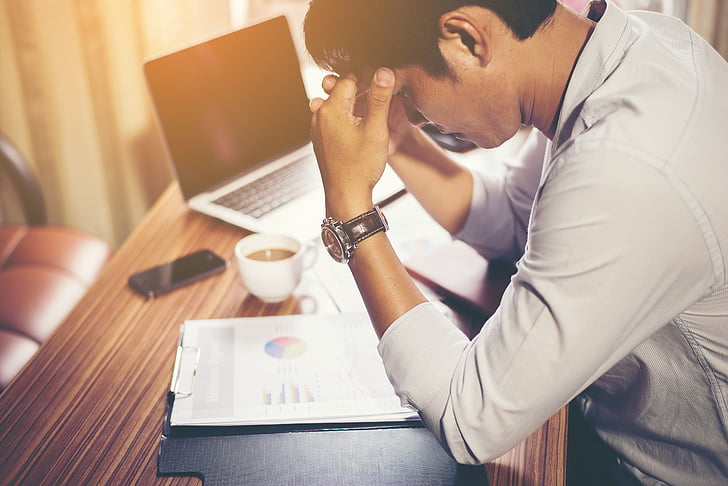 In addition, there is a growing demand for digital office operations in many companies. Beyond the need for computing power, different businesses have their own unique IT needs.
Simply equipping people and offices with devices, installing a few applications and digitising a number of office processes cannot solve the real problems faced by many organisations.
In short, the pain points of enterprise IT solutions lie in:
Device reliability: Devices must be stable and deliver consistent performance over long periods of use.
Low operating and maintenance costs: The cost of operation and maintenance must be reasonable, even for organisations without dedicated specialists.
Rapid deployment: While unforeseen events are inevitable, the ability of devices to recover quickly from failures is critical.
To address these issues, the FydeOS enterprise solution has been developed.
FydeOS enables IT administrators to deploy, update and configure FydeOS devices from a unified control terminal within the organisation's management domain.
It also provides a range of security measures such as malware and phishing protection, advanced management capabilities, security reporting and data loss prevention options.
What makes FydeOS special?
FydeOS is a cloud-first working framework derived from the open-source project that powers Chrome OS, with cutting-edge licensed innovations tailored to the equipment base of conventional x86 and ARM on the watch.
FydeOS's goal is to give enterprises with a safe and stable platform for managing devices and applications. Because of its user-friendly interface, robust security features, and compatibility with a broad range of hardware platforms, FydeOS is an excellent choice for organizations wishing to boost productivity and simplify device administration.
"One-stop" Cloud Management console
The cloud management function of the FydeOS corporate solution is one of its core features, allowing enterprise IT managers to easily define precise policies and monitor application activity for FydeOS devices and accounts inside the group.
This capability ensures that company IT administration can deploy, update, modify settings, and troubleshoot thousands of devices without wasting time and effort.
For example, using the FydeOS cloud management platform's "Zero-touch enrollment" function, enterprise IT management can remotely generate a proprietary system image file for designated employees' devices and push it to the other party's device for installation and registration to the enterprise management domain with just one click, which is incredibly convenient and expedient.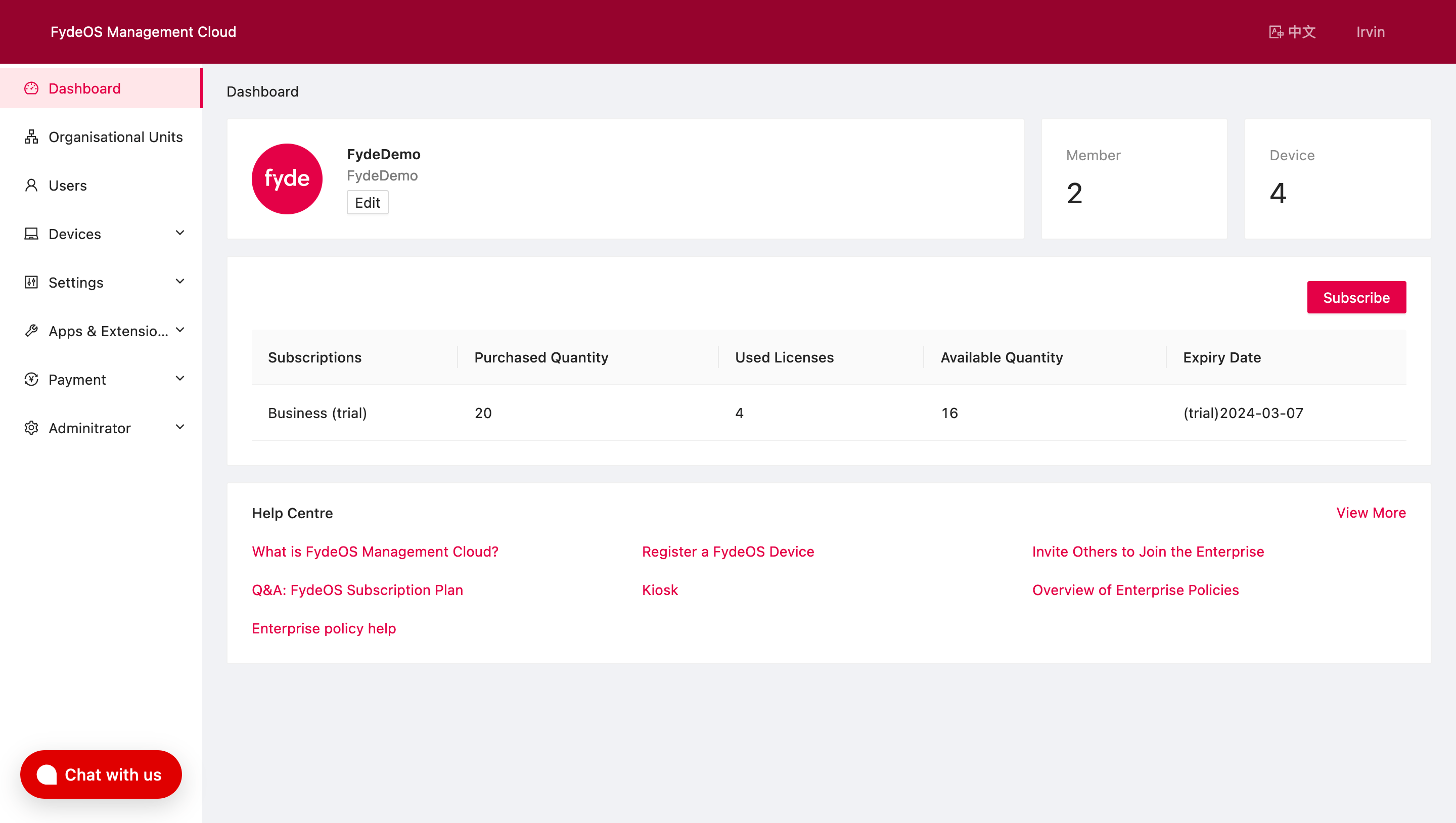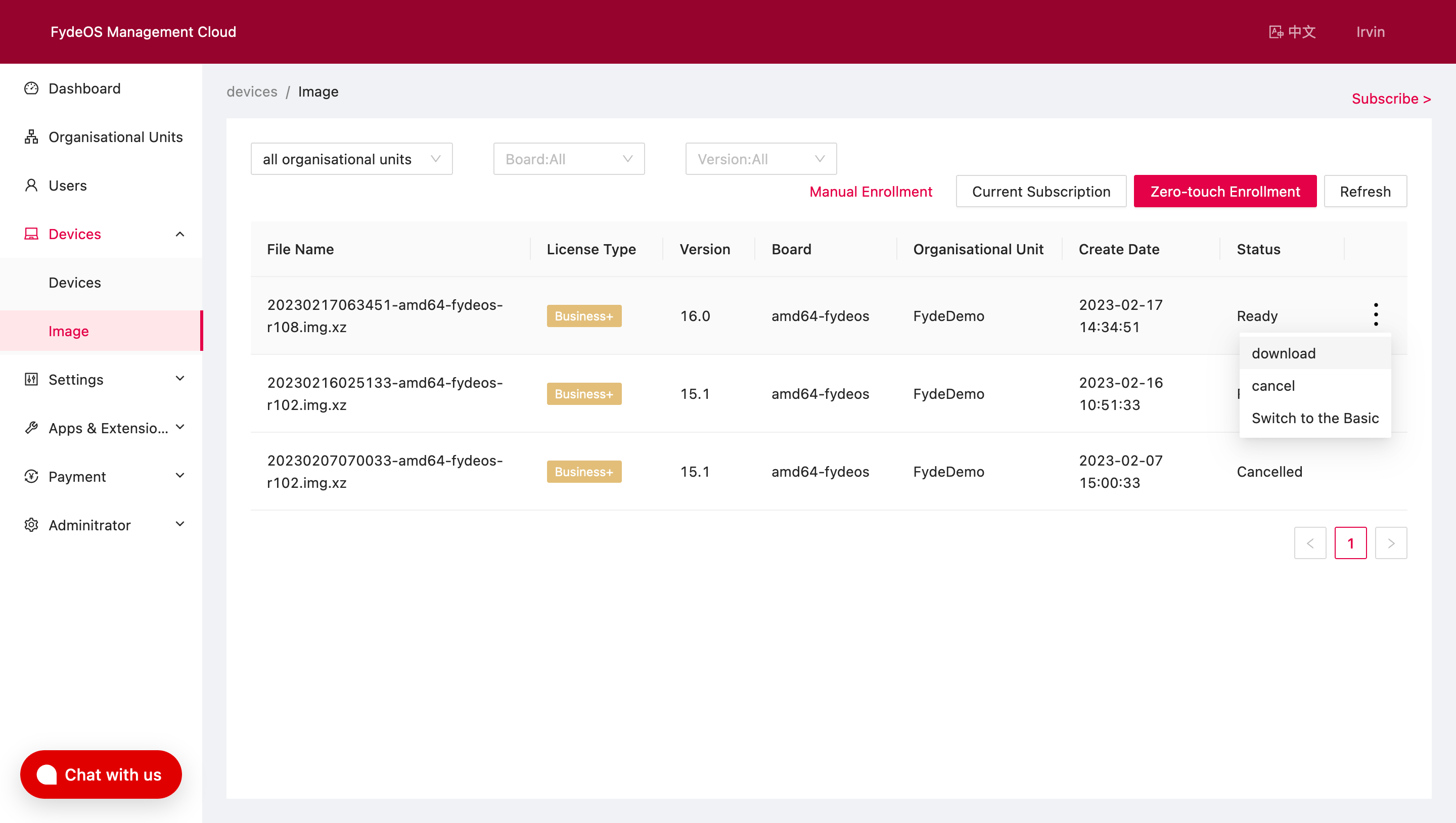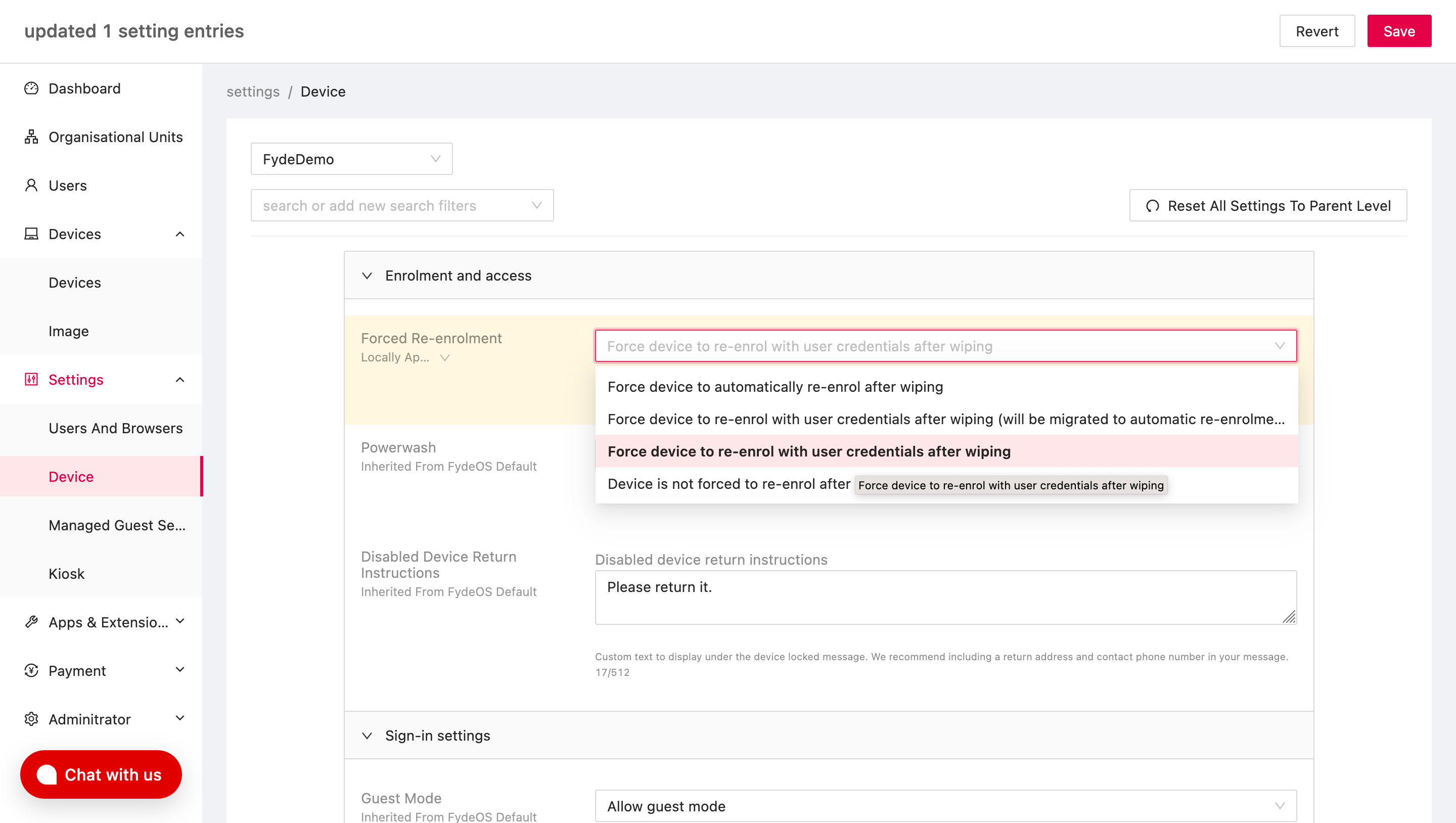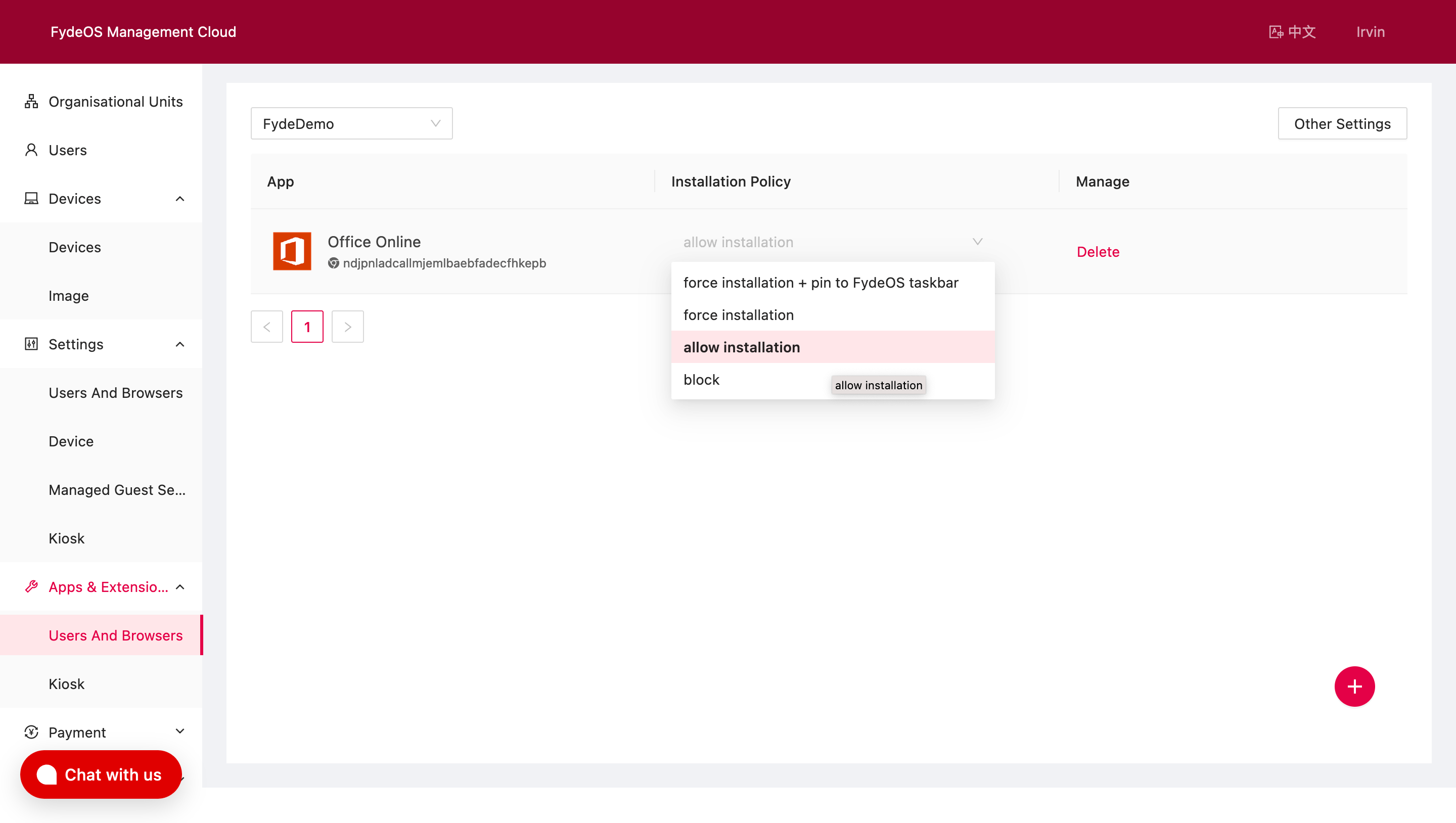 Excellent device compatibility and affordability
FydeOS has high platform compatibility, supporting standard x86 and ARM CPUs and even entry-level hardware.
The authorization method is flexible, the price is low, and the entire solution does not require the purchase of extra security and control software, which saves money and is ideal for organizations with a big number of diverse devices.
Because FydeOS is lightweight, it can provide smooth operation and quick reaction even on the most minimal hardware setup. This enables businesses to provide a high-quality user experience while spending little money on hardware.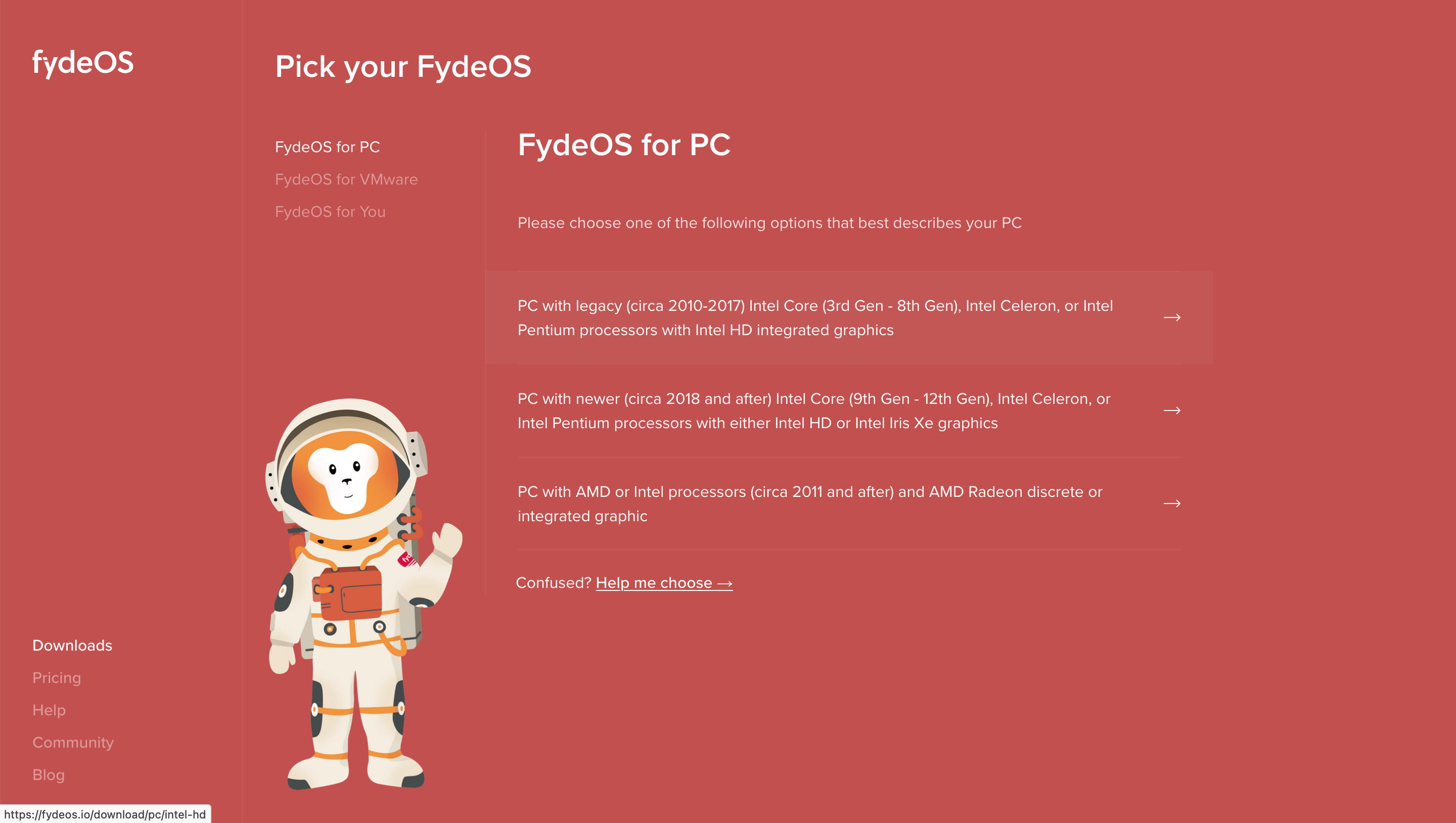 Fast and solid experience
The read-only nature of FydeOS prevents ordinary users from modifying or accessing system files. This ensures the strength and security of the framework. The FydeOS installer creates no garbage files and consumes very few resources at the same time. In this way, FydeOS keeps a smooth encounter as the primary day, regardless of the length of the purpose.
FydeOS also has powerful multitasking features that allow multiple virtual desktops to be opened simultaneously to handle different productivity tasks without lag or crashes.
Business benefits of FydeOS Enterprise
We commissioned a consultancy to carry out a market research study, visiting a number of companies that have been using FydeOS over the last three years to assess the business benefits. As a result of this research, we have come to the following conclusions: Organisations are reaping significant benefits from using the FydeOS cloud management platform:
– Companies have seen a 75% reduction in the amount of time their IT department spends dealing with work orders, progressing and confirming updates.
The total amount spent on operations has been reduced by an average of $0.44M
– Spending on data security, industry compliance and security was reduced by nearly $2M
– A 30% reduction in the total number of back-end administration tasks allows IT managers to devote more energy to business creation.
The study also found that by calculating the time and resources required to implement the FydeOS cloud management platform, any organisation can fully recoup these costs in less than 6 months.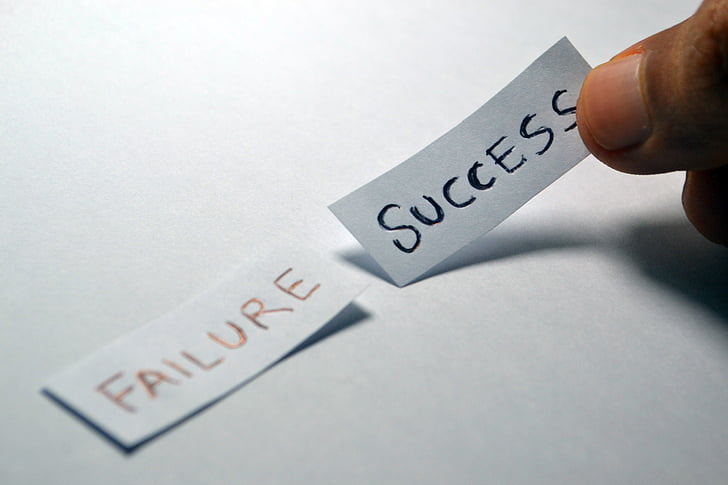 You are in a good company
"FydeOS is easier for our employees to use. They do not have to install any additional applications or components. They can start using the assigned device by simply opening it. Everything can be done through the browser". Project manager at a café chain.
"In the past, we needed two full-time employees to devote 15 to 20 percent of project hours to application testing. Now we need less than one full-time person and it only takes 5 to 10 per cent of project hours. Senior manager at an insurance agency.
"Because of the time required to synchronise and configure systems, our remote workers often experienced delays in accessing the latest information. Using the FydeOS cloud management platform, we can now push consistent configuration information and updates to their devices with a single click. All they have to do is open the browser to access the latest content. Digital Project Manager, Retail.
Visit our official website https://fydeos.io/enterprise-solution/ to learn more about FydeOS enterprise solution and its features. A free trial is now available, so come and experience it!